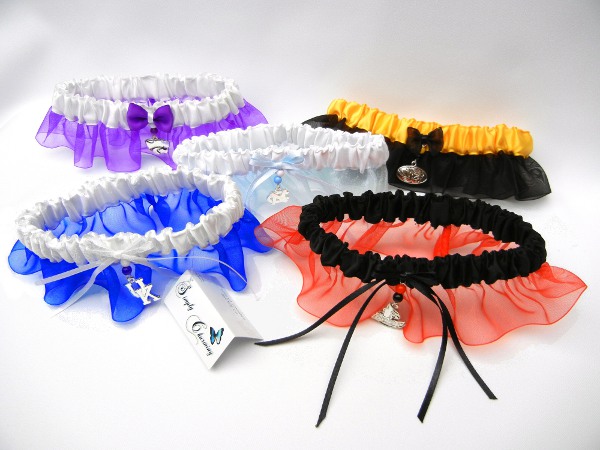 Simply Charming's wholesale collegiate garters are a fabulous way for brides to show off their school spirits. Each garter is made with a fine satin band and an organza trim in the school colors of your choice. These college garters also feature either a licensed university charm of each universities logo. College garters are great for couples who may have met at college or even for parties, school activities, and of course sporting events. Collegiate garters are available in regular or queen sizes and as a set with an additional garter band for the garter toss. Choose from nearly 150 different schools from across the nation. See below.
Collegiate Schools
Alabama
Alabama A&M
Alabama State
Alabama-Birmingham
Appalachian State
Arizona
Arizona State
Arkansas
Arkansas State
Auburn
Ball State
Baylor
Binghamton
Boise State
Brigham Young
Butler State
BYU Idaho
Central Florida
Central Missouri
Cincinnati
Citadel
Clarkson
Clemson
Colorado
Colorado Springs

Colorado State
Creighton
Dixie State College
Duke
East Carolina
Elizabeth City State
Emporia State
Florida
Florida A&M
Florida Atlantic
Florida Gulf Coast
Florida State
Fort Hays State
Georgia
Georgia Southern
Georgia State
Georgia Tech
Gonzaga
Hawaii-Manoa
Houston
Idaho
Illinois
Indiana
Iowa
Iowa State
Jackson State
Jacksonville
Jacksonville State
James Madison
Kansas
Kansas State
Kentucky
Louisiana State
Louisiana Tech
Louisiana-Lafayette
Louisiana-Monroe
Louisville
Marshall
Mary Hardin-Baylor
Maryland
McNeese State
Memphis
Miami
Michigan
Michigan State
Middle Tennessee State
Minnesota
Mississippi State
Mississippi-Ole' Miss
Missouri
Missouri Southern St
Missouri State
Missouri Western State
Morgan State
Nebraska
Nevada-Reno
New Mexico
New Mexicon State
North Alabama
North Carolina
North Carolina State
North Carolina-Charlotte
North Dakota
North Texas
Northern Iowa
Northwestern
Ohio
Ohio State
Oklahoma
Oklahoma State
Oregon
Oregon State
Penn State
Pittsburg
Purdue
Rutgers State
South Alabama
South Carolina
South Carolina State
South Florida
South West OSU
Southern Illinois
Southern Mississippi
Southern University
Southern Utah
Stephen F. Austin State
Syracuse
Tarleton State
Tennessee State
Tennessee-Chattanooga
Tennessee-Knoxville
Texas A&M
Texas Christian
Texas State-San Marcos
Texas Tech
Texas-Austin
Texas-San Antonio

TN Lady Vols
Troy
Tulsa
Tuskegee
Univ of Cal, Berkeley
Utah
Utah State
Utah Valley
Vanderbilt
Vermont
Virginia
Virginia Tech
Wake Forest
Washburn
Washington
Washington State
West Florida
West Texas A&M
West Virginia
Wester Carolina
Western Kentucky
Wichita State
Winston-Salem State
Wisconsin
Wyoming

All garters hand-made in the USA.